Mold is most often associated with allergies, but mold is much more menacing than people know. While all molds have the potential to cause irritation and allergy symptoms, molds can also cause much more dangerous health problems. Some molds can produce toxins. Toxic molds can cause health problems ranging from poisoning to cancer. Not all molds are toxic, but many are. So, where is the line between an allergic mold and a toxic mold? That line is defined by something called a Mycotoxin.
SO WHAT IS A MYCOTOXIN?
Mycotoxins, literally 'fungus poison' in Latin, are secondary metabolites that can be produced by molds, and are not living organisms.2 Mycotoxins are a byproduct of mold. Not all mold spores produce mycotoxins, but some do. So the molds that produce mycotoxins are the ones that could be categorized as toxic or poisonous.
WHAT DO MYCOTOXINS DO?
These chemical substances can cause many health problems ranging from mild to severe. Even if you are not allergic to mold, you can be affected by mycotoxins.
Mycotoxins can be absorbed by the body a number of ways including: through the skin, the airways, and through the intestinal lining. Detrimental health effects caused by mycotoxins can range from "acute poisoning to long-term effects such as immune deficiency and cancer."12 Chronic disease sufferers, such as people with immunosuppressive disorders or underlying lung disease may be more sensitive to molds and mycotoxins in their environment.4
One of the main ways people become poisoned by mycotoxins is through eating contaminated foods.12 Foods such as apples, cereal grains, coffee beans, nuts, spices, and more can become contaminated with fungi that produce mycotoxins.12 To learn more about mycotoxins in foods see the World Health Organization's article: Mycotoxins.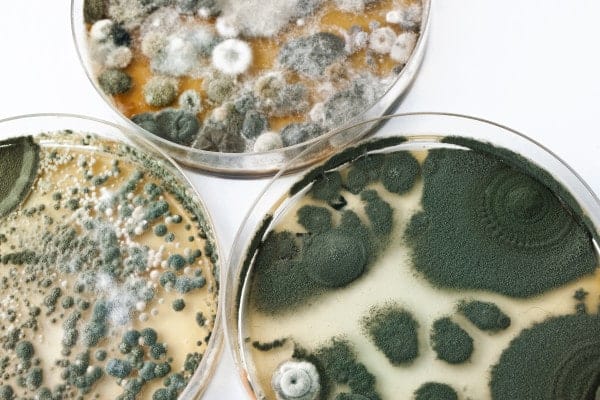 BUT I'M HEALTHY! CAN MYCOTOXINS REALLY AFFECT ME?
Even for people in good health, exposure to large amounts of mycotoxins can overwhelm the immune system and cause symptoms of poisoning. Mycotoxins can be especially dangerous for people with compromised immune systems.
Some of the symptoms associated with mycotoxins can include:
Chronic burning in the throat and nasal passages
Coughing, wheezing, and shortness of breath
Eye irritation – red eyes, blurred vision
Reduced color distinction
Fatigue
Loss of balance
Dizziness and Disorientation
Depression and/or anxiety
Headache
Light sensitivity
Vertigo
Feeling lightheaded
Morning stiffness, joint pain and/or muscle pain
Muscle weakness
Slower reaction time
Poor memory, difficult word finding
Difficulty concentrating
Unusual skin sensations, tingling and numbness
Skin rashes
Appetite and mood swings
Body temperature regulation problems
Increased urinary frequency, increased sweating (especially at night), or increased thirst
Abdominal pain, diarrhea, bloating
Metallic taste in mouth
Information gathered for this list is found in resources 13 through 20 at the end of this article.
As you can see, the list is quite long! It is also not a list of symptoms that would immediately point a doctor to a specific illness.
This blog is NOT intended to replace medical advice, diagnosis, or treatment. Always talk to your doctor about symptoms of any medical condition you are experiencing. It is unlikely to experience all the symptoms listed, but many of these symptoms could be cause for concern. An open dialog with your doctor is important for any medical condition. Always ask questions to be sure you understand your diagnosis, treatment, and recovery process.
HOW DO I KNOW IF I HAVE BEEN EXPOSED TO MYCOTOXINS?
The best way to find out if you have been exposed to mycotoxins is to have a professional inspection performed. How do you know if you need an inspection? You may need a mold inspection if:
You can visibly see mold
If your home or business has a musty smell you can't identify
You have experienced water damage in your home or business
You want to know if your health could be suffering because of mold
WE'RE HERE WHEN YOU NEED US
Call Branch Environmental. We see each mold inspection as an in-depth investigation, and will work hard to help you find the root of the problem. We're experts not only at mold removal, but at determining and remediating the underlying causes. From hidden mold sources to major contaminants. We can identify exactly what is going on in your home and rid it of environmental toxins, often for good.
---
Branch Environmental – Because nobody should live or work in a building that makes them sick.